There is one distinct facet about managing a field workforce that fundamentally changes the techniques needed and that is the fact that your resources are disparate, usually on their own and probably out of contact. Add to this, the concept of reactive work schedules and you have a business problem that is far and away one of the greatest to manage and resolve.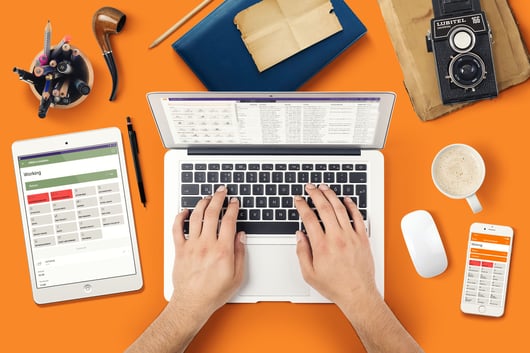 It doesn't have to be so difficult if you have the right tools.
You'll already know that to manage a field workforce effectively, you need to:
Be able to communicate with them effectively.
Make decisions about the order of work based upon constraints.
Understand the business and contractual objectives.
Have a workforce that is productive.
Enable "on-the-fly" decisions, where needed.
(OK, there's a lot more than that but these are certainly primary elements!)
So, let's take a look at each one.
1. Be able to communicate effectively
Everyone has email and that's great for communication, right? Well, errm, no. It has major downsides when it comes to managing a field workforce. It's hard to enforce a workflow with rules around mandatory and optional activities. It doesn't confirm communication failure until it's too late (often overnight). It suffers from "clutter" and it doesn't render information cleanly (unless users are very careful). There's also a need to keep deleting stuff. That's not to say it's not useful for work, but it should be the conduit/mechanism for tracking work.
To facilitate effective communication, you need a mobile app for either smartphones, tablets or laptops that presents work in the way both you and the field engineer needs. It should receive jobs and notify the user effectively. In reading and/or accepting the work (or rejecting for that matter) it should allow distinct workflow. It should deliver instructions around work and allow the updating of job, activity and task status in the fastest possible way.
2. Make decisions about the order of work based upon constraints.
This is a complex business problem. And to be effective, you need a lot of crucial information in one place at one time, being considered (or viewable) at once. This is where a really good, well-established field service management system comes in. It must hold information about service levels, customers, locations, personnel skills/constraints, contracts, probably parts/materials and real-time status/location feedback from the mobile app discussed above. You need to consider these at relevant moments in the cycles of work. For example, if you work with lots of pre-planned work, the contractual schedule and "what's done/not done". If you have reactive work too, you need to be able to allow spare capacity to cope, and of course not all personnel have the skills to every type of work. You'll need a system that knows what service level the customer is entitled to, and will constrain any suggested allocation of work to the right people.
In short, you need a field service management system with in-built scheduling system which communicates with the mobile apps in real-time discussed above.
3. Understand the business and contractual objectives.
This is rather vague but in effect means steering the business to achieve its high level objectives around such things as first time fix, % SLA met, profitability, days to bill, WIP etc. It isn't about each job or work order though the sum of the activities around the work order drive this. To achieve this, you need a system that renders statistical data in real time on a dashboard. You need to be able to see these change daily and, because time is short, you need to see this at a glance, rather than on some long-winded print-out or complex spread sheet.
New cloud-based BI tools, such as Microsoft's Power BI are delivering excellent infographics at a low cost that is very affordable and not so long ago could only be done by tools costing many thousands and requiring expensive expertise.
4. Have a workforce that is productive.
In most field service businesses, the revenue generation is done by the field service personnel and their time is, usually, finite and limited. It's critical therefore to maximise the billable time for each field engineer/technician. Its critical to reduce travel time. And it's critical to issue clear instructions. And furthermore, it's critical to minimise the use of the app by the field service technician (after all, if they are updating the app, they are not doing productive (read=billable) time. Apps should work offline as well as online so as to be usable irrespective of whether there is network coverage. They need to automatically prompt for mandatory data, which is aligned with type of work and position in workflow. Everything should be finger driven. Oh, and people like to use whatever device they like… some people like iPhones, some like Android; it shouldn't matter which. Having an app that is a joy to use actually ensures it gets used; and keeps productivity up.
5. Enable "on-the-fly" decisions, where needed.
Field service, is by its nature reactive and being able to make good decisions on the fly is important, not only for call centre dispatchers, but for field engineers/technicians too. This is where "management" really kicks in; making the right decision, quickly and for the benefit of all. The issues crop up all the time… a field engineer gets stuck in a jam, or goes off sick, or a part doesn't arrive, or a customer complains… all scenarios where quick decisions are required. If you have a software application that lets you see into histories, or suggests automated schedule changes, or lets field engineers search for parts online and book a (cost effective for you) return appointment face to face with the customer, you are making the best decisions and indeed, managing better.
Solarvista is the UK's leading independent provider of cloud-based field service software and mobile apps. We develop all the products required to enable you to get the right person to the right customer at the right time. Our products are in use by some of the UK's best known brands as well as many lesser known but high quality businesses. All our products are available as cloud based software-as-a-service with simple monthly fees.
Solarvista is software that helps people who run field service oriented businesses. It enables our customers to deliver exceptional service levels whilst increasing efficiency and driving revenue growth. It is the only complete solution that manages customer assets, service levels, contracts/agreements, job scheduling, job task control, parts, billing, and quotations. Solarvista is cloud-based so no hardware is required. It's accessible via every device type, is available to suit any business size and via simple all-inclusive per user pricing.