Here at Solarvista Towers in Sheffield we recently invested in some state of the art solar panels and are starting to reap the rewards – a lot more quickly than expected.
It's not just households that can install solar panels and generate their own free electricity, businesses, with a suitable roof, can also benefit. For small and medium size businesses (SMEs), the installation will be similar to a domestic system in terms of size and return on investment unlike the large commercial installations found on industrial warehouses, factories, schools, hospitals and agricultural buildings.
So why invest in solar?
There are a number of reasons but really it's all about cost cutting. At Solarvista we've used over 1500 kWh less electricity in the office during February 2023 compared with the same time last year. This was achieved by working with Yorkshire Energy Systems to install our solar panels who are a long-standing Solarvista customer - we always like working with customers when we can.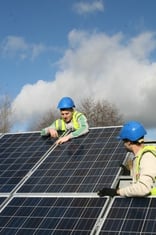 "Yorkshire Energy Systems is a highly professional Harrogate based company specialising in renewable energy and energy conservation. The governing philosophy of the company is to inform and educate people to the benefits of energy saving solutions. We know from experience that if people are given accurate information they will want to make the change to renewable technologies, not just from an environmental point of view, but also because it makes sound financial sense. However, we understand that this is a new industry and that people need lots of information, reassurance and time when deciding which, if any, renewable technology is best for them."
We also reviewed every aspect of the company's energy consumption, in simple terms, turning stuff off that we're not using and getting smarter about external lighting etc. According to National Grid figures for February 2023 that's saved over a third of a tonne of CO2 from entering the atmosphere. So the more energy you need to use in your operation, the more your business and the planet will benefit from installing solar panels.
You can save £££'s through lower energy costs.
According to the Department for Business, Energy & Industrial Strategy (BEIS) the average cost for standard electricity in the UK in 2022 was 18.9p/kWh. It currently stands at 52p/kWh, but with the Energy Price Guarantee, it averages at 34p/kWh (the exact amount varies depending on tariff and other factors).
This is a huge increase of 83% from the last energy price cap back in April 2022.
Energy prices have been increasing gradually for years and are expected to continue to rise as fossil fuels (which are traditionally used to generate electricity) become harder to source. By generating your own electricity from solar panels you can reduce your reliance on the National Grid and the fluctuating prices, making budgeting and forecasting much more straightforward.
The electricity generated by solar panels is free energy. For every kWh of energy your solar panels generate, that's one kWh less you'll need to buy from a supplier.
Less than a decade ago, solar panels were thought of as a niche and experimental technology. Ten years on, solar has become the fastest growing energy source worldwide. Technology and finance has moved the technology into the mainstream and solar is now a mass-produced product, delivered at a competitive price. In fact, the price of energy generated by solar panels is estimated to cost less than a third of electricity bought from the grid.
A typical business solar panel system will provide free electricity for more than 25 years, achieve financial returns of up to 20% per year and pay back the cost of installation within around 5 years.
So our business, Solarvista, now really lives-up to it's Spanish translation 'sun view!'