For the third year running, the Field Service Summit UK will bring together service leadership professionals to discuss the latest trends and the strategies that drive us towards service excellence across a range of industries.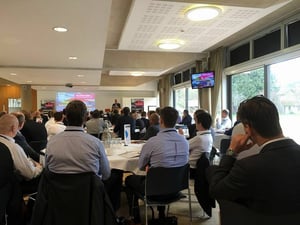 Held on 11th April 2018 at The Slate, Warwick Conference Centre, Coventry UK, the Field Service Summit is a one day event packed full of conferences, round table discussions, high profile speakers and vast opportunity to engage with delegates, speakers and sponsors throughout the day.
Solarvista Software's Head of Business Development, Alan Bailey, will be heading up the round table idea blitz discussion this year for "Agile Process Transformation – End-to-end transformation road-map to integral digital agility". The round table discussion will be held for 30 minutes and provides delegates with the opportunity to brainstorm and seek out further knowledge from industry experts within the chosen topic. With extensive knowledge and experience of Agile process transformation here at Solarvista, Alan was the obvious choice to head this up.
Alan is a major contributor to the delivery of large and complex software implementation projects for customers who have achieved outstanding return on investment figures. Using our Agile methodology to deliver these projects, our approach means we can be flexible to change and test along the way ensuring quality of our solution.
We will have a dedicated stand at the summit, so you will have the opportunity to discuss Solarvista LIVE/X9 with a product specialist and the benefits this can bring to your company.
For more information or to purchase tickets, please visit the Field Service Summit 2018.
To book a meeting at the event, do not hesitate to get in touch.
About Solarvista Software
Solarvista is the UK's leading independent provider of cloud-based field service software and mobile apps. We develop all the products required to enable you to get the right person to the right customer at the right time. Our products are in use by some of the UK's best known brands as well as many lesser known but high quality businesses. All our products are available as cloud based software-as-a-service with simple monthly fees.
Solarvista LIVE/X9 is software that helps people who run field service oriented businesses. It enables our customers to deliver exceptional service levels whilst increasing efficiency and driving revenue growth. It is the only complete solution that manages customer assets, service levels, contracts/agreements, job scheduling, job task control, parts, billing, and quotations. Solarvista LIVE/X9 is cloud-based so no hardware is required. It's accessible via every device type, is available in three editions to suit any business size and via simple all-inclusive per user pricing.