SaaS vs. On-premise: Is cloud-based software really less expensive than buying software to run in-house?
It doesn't go unnoticed that there is some scepticism about the cost benefits of operating cloud-based, "software-as-a-service". It's understandable when you compare to scenarios where you "buy once, use forever". Surely, it's always "cheaper to buy than rent" I hear you say?
When you compare to housing, or motor vehicles, everyone knows that it simply "prudent" to buy, even if it costs more cash up front (usually, at least).
But software is different.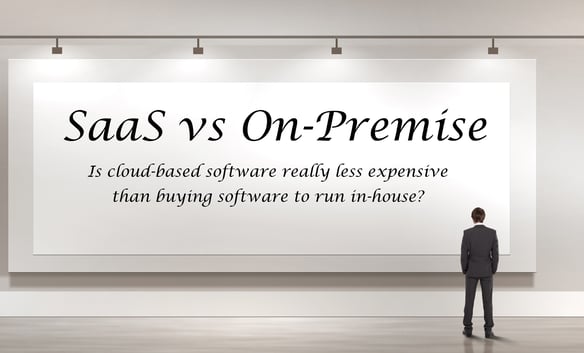 Software is part of high technology, which undergoes frenetic and rapid change. Not just the core software product, but the components it connects with and the sub-systems it runs on. Literally, everything surrounding it, and often underneath it, is changing from month to month (sometimes weeks).
All this change, has side effects that are costly and often not costed in traditional "on-premise" models.
You may not see the change happening. Sometimes changes happen very incrementally (and in an unnoticeable way), for example when operating systems get "monthly service packs" (often these are automatic). Sometimes, the changes render themselves as a new version of a product i.e. V1 to V2. Then V3 comes along and the cost to upgrade not only requires an "upgrade fee" but also is riskier due to volume of change.
Software needs hardware and operating systems to run on. In most cases, this at least refers to servers to hold the data and manage communications. These needs updates too and it's often the case that major versions come every 2-3 years. Again, the costs of this, are often ignored.
In the case of a field service management system, you'll need to equip your field technicians/engineers with mobile devices. These are usually revamped every 12 months and in some cases, e.g. Apple iPhone, every 6 months.
Software is often treated like a "machine" with a power switch. If it works it works etc. But what's different is that they could be viewed as a living/breathing dynamic machine that, like living creatures, evolve and need regular care. Not just to keep working but to stay relevant.
There are some industry-wide similarities (not "standards" however) around the pricing of software that is "rented" as opposed to "bought outright". The general assumption is that software is depreciated as an asset ("written off") over a 36-month period, usually in a straight line.
To keep products up to date, the industry offered "software assurance" that, usually was around ten per cent of the original package price, per annum.
Then for help desk support, the vendor would charge somewhere between 15% and 30%, of the original package price.
Let's look at an example of a 10-user system (on this example, I'm not considering mobile devices as they don't really run in the cloud).
So for a software product that cost, say £360 per user, the costs would look like this:
| | |
| --- | --- |
| First year write down of license | £120 |
| First year software assurance | £36 |
| First year help desk support (say 20%) | £72 |
| TOTAL | £228 |
So, effectively, over three years, the cost is 3 x £228 or £696 over three years. However, this doesn't cover other costs that are often harder to track. In addition to this, you will need:
Server hardware and operating systems
Network hardware
Database software
Engineering expertise
This is often harder to quantify but it can be very expensive, especially for smaller user counts. Typically, for a ten user system this might be:
| | |
| --- | --- |
| Server Hardware | £5K |
| Server Software (Operating System) | £2K |
| Network Hardware | £2K |
| Database Software | £2.5K |
| Back-up System | £1.2K |
| Malware Protection | £1.2K |
| Labour/Expertise to Setup | £2.5K |
| TOTAL | £16.4K |
In addition, this hardware will need some kind of on-going support from system engineers and anti-malware will need regular daily updates to be effective. The back-up system will need consumables.
| | |
| --- | --- |
| Consumables (p.a.) | £300 |
| Malware Update Service (p.a.) | £200 |
| Engineering Support (p.a.) | £2.5K |
| TOTAL | £3K |
So, for three years, the cost is £16.4K plus 3 x £3K i.e. £25.4K.
Assuming this is spread this over 10 users amortised over 36 months and you get to £705 per user per annum (£25.4K/36/10).
What started life as a £360 per user product, is actually £1401 or £117 per month! Yes, £117 per month for each of the users (assuming 10) once you have covered hardware, support, back-up, etc.
With the cloud, most if not all of the second tranche of costs are included within a set fee. And you don't have the 'hassle' of owning and operating.
So, finally to answer the question posed as the title to this post…
There is a reason I selected £360 as a product price. It's the equivalent price (from our V8 on-premise product) of our Solarvista LIVE/X9 Business Edition product feature set and that costs £59 per month per user. That just over 47% less!
The answer is clear; cloud-based solutions are less expensive to own.
Solarvista is the UK's leading independent provider of cloud-based field service software and mobile apps. We develop all the products required to enable you to get the right person to the right customer at the right time. Our products are in use by some of the UK's best known brands as well as many lesser known but high quality businesses. All our products are available as cloud based software-as-a-service with simple monthly fees.
Solarvista LIVE/X9 is software that helps people who run field service oriented businesses. It enables our customers to deliver exceptional service levels whilst increasing efficiency and driving revenue growth. It is the only complete solution that manages customer assets, service levels, contracts/agreements, job scheduling, job task control, parts, billing, and quotations. Solarvista LIVE/X9 is cloud-based so no hardware is required. It's accessible via every device type, is available in five editions to suit any business size and via simple all-inclusive per user pricing.