---
Version 6.2.1 of Solarvista LIVE Mobile is now available. Like version 6.1 it contains minor updates to the UI, but in addition we have made many changes to make the app more robust and perform better on all platforms.
User Interface
Activity Status
The activity history on the visit details page has been updated to better indicate the status of each activity in the list.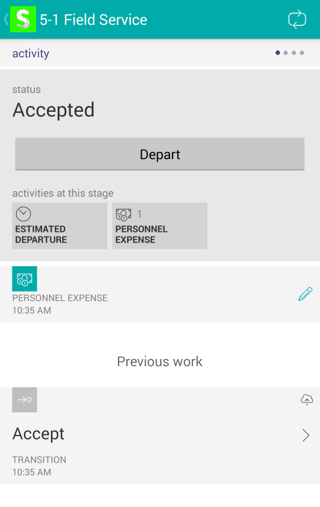 Activities that have been sucessfully synchronised with the server now show the uploaded to the cloud icon
. These activities are no longer editable, but can still be accessed in read-only mode. Activities that have been queued for submission to the server but not yet synchronised now show the history icon
. As with synchronised activities these activities are no longer editable, but can be viewed in read-only mode. Activities that are still editable because they have not yet been queued are now highlighted in the accent colour of the visit and show the edit icon
. Hopefully this should make things clearer. The Visit Detail page will now also update in the background without the need for a manual refresh to show the changing state of queued activities. Look out for the history icon changing to the upload to cloud icon automatically.
Submit On Completion Notification
In addition to the status icons, a notification message has been added which is displayed on form completion for any activity that has been configured for instant submission. Standard operation is for activities to be queued for submission each time a visit is transitioned from one stage to the next, however in some situations it is desirable for an activity to be submitted as soon as it has been filled in without waiting for the next transition. An obvious example is the Estimated Departure time form. When these type of activity are ;now submitted, the user will see a prompt telling them that it will be submitted immediately, and therefore won't be able to be edited. Display of this alert is controlled by a new setting on the preferences page, so it can be turned off once familiar with which activities sumbit immediately.
Form Validation Notification
On Windows versions of the app there was an intermittent problem with the ok button not always enabling even after all fields had been filled in correctly. This issue has been resolved by changing when e-forms are validated. In this version the ok button will be enabled as soon as the form has loaded. When the ok button is tapped to submit the form, validation will run to see whether it is ok to do so. If not a new notification will be displayed indicating what required data is missing, and what fields have invalid data in them.
Account Description
The account description has been added to the 'accounts & organisations' page. This very minor change is probably going to be most useful in demo mode, to indicate what kind of demo configuration will be associated with a particular account.
Performance & Stability
Improvements have been made in most pages of the application mainly in the handling of notification messages and button clicks. Buttons should now be disabled until the page has completely loaded; in some cases a disabled button becoming available will be noticable to the user, particularly the transition buttons on the visit details page. This is intended to prevent a few issues that we have seen arising from clicking a button before the page data has fully loaded.
All notification messages that will be displayed to the user in popup dialogs are now placed in a queue instead of being displayed directly. This has a number of benefits. Firstly, because each message is displayed from the queue one by one, resolving a crash issue that we haveseen on windows devices. Secondly, if multiple messages do arrive at the same time, the user will see them in an orderly fashion.
Visit Details
The Visit Detail page performance has again been improved in this version. Initial loading of the activity history and reloading of the activity history after performing a transition will now be faster due to improvements in the handling of the transition buttons and available activity icons. All versions should see a benefit. In Hotfix 1 further refinement of the transition logic was added to prevent submission of multiple transitions from a stage.
The visit detail page has also undergone a number of more minor simplifications as part of the work to ensure that the activity status is correctly displayed, which will all have a positive effect on performance.
Other Fixes
A number of other bugs of lesser severity have also been addressed in version 6.2 and hotfix 1
Fixed a workflow activity resolution issue that could cause e-form activities to appear as duplicates in the workflow page & activities section of the visit details page. The simplification will also have a slight performance benefit.
Fixed a potential crash bug on the Sync Status page when a request remains stuck on the device after its associated visit has been deleted.
Fixed the submission state of an activity to ensure that it is correctly updated after being synchronised in the background.
Fixed a problem where it was sometimes possible to see an activity become editable after submission when it should have been read only.
Corrected submission of activities marked for 'Submit On Completion'. They will now be submitted immediately as opposed to within 1 minute of being completed.
Fixed handling of visit updates, either via user refresh on the visit list or in the background. Changes will now be correctly reflected on the details page, without the need for additional navigation or refreshing.
Fixed handling of workflow refresh on the visit list page when there is an unknown workflow on the details page. The workflow will now be updated correctly on the details page.