Customers always seek good value but in recent surveys, "value for money" is not the first criteria for delivering customer satisfaction. In field service, surveys consistently tell us that "good quality service" is what people most value. This term is a little vague however; what does it mean? And how can software help deliver 'good customer service' and 'happy customers?'
Good customer service is about some core fundamentals:
Getting what you want in a timescale you desire.
Being kept updated with progress.
Feeling valued as a customer.
Do all the above and you are a long way towards having happy customers.
Let's look at how a good field service management system can help (and even enable) some of these factors.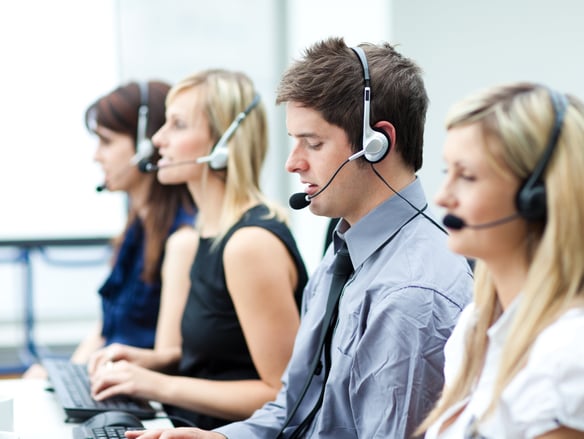 Firstly, let's look at "Getting what you want in a timescale you desire."
Customers want to get quick service (where there is an urgency, such as a breakdown) or service at a time that convenient to them (such as a planned annual service check). Most businesses can do this, but it's "how" it's done that makes all the difference. The actual work itself could (and often is) the same quality, whoever supplies it. Sometimes the work is controlled by industry or statutory standards anyway.
For you to respond quickly to a request, such as "Can I have someone here tomorrow please?" you need to know if you can deliver the service, at the physical site, with someone skilled to do the work, perhaps with the rights parts too. If you are already busy, this isn't an easy decision to make. If you make a poor decision you risk over committing and being late, or putting other commitments at risk. To do this effectively, you need a real-time planner and scheduling software tool. If you have known levels of reactive work, this software needs to reserve capacity at key moments in the week, looking ahead too.
Sometimes customers want your field service personnel only to arrive at a time window convenient to them (almost always the case in consumer service). But how do you square this with existing demands and not incur greater operational costs for you? The answer is a system that offers "least cost appointments," a list of dates and times when you can deliver, at an acceptable cost travel wise that you can offer to the customer. These should be presented within a few seconds on screen to call centre users to offer to customers as prompts. A customer feels valued when you ask them when they want you to come. Another way to offer this is via links in emails to website pages for the user to select from and confirm bookings.
Next, let's talk about "Being kept updated with progress."
What do you currently do when your customer places a service request with you? Do you ask them how they want confirmation and to be kept updated? With a system that supports "automatic communications" you can send confirmation email or SMS text upon creation of the work order/job. This acts to re-assure the customer that what they requested is what you plan to do. If anything changes, another email or SMS can also be automatically sent. The day before, you should send a reminder; perhaps an SMS when the field technician departs to the job and confirm a revised ETA. If you are going to be late, tell the customer beforehand and in real-time. These are communications that are hard to do consistently without a good field service management system doing it automatically.
Sometimes, especially in reactive repair-based work, parts are required to complete the work and we often see some companies with processes that leave the customer in the dark. Customers are prepared to wait for parts as they understand not every part is in the van, but what they do want is firm commitments on timescales. To do this, the field engineer needs to be able to have surety around availability of the part itself and an ability to re-book an appointment with the customer, in front of them, face-to-face. "I'll have the part tomorrow and I can be back here for 4pm, does that suit you, Mr Customer" works a lot better than "I've requested the part and the office will get back in touch with you about me coming back, Mr Customer!"
Finally, let's talk about "Feeling valued as a customer."
We've already discussed how auto-communications keep customers updated but they should also be used to thank the customer for their business.
Customers feedback on every job done for the customer should be requested, and again, good systems promote this. This can be done in a number of ways, either verbally (through call centre scripts), by prompting for a rating via the mobile app when the engineer asks for signature or via post-closure or by a link on emails to a web page.
In summary, doing the work well is simply expected. But treating the customer well requires a separate effort over and above the norm.
Read about Solarvista's Field Service Management Software and an in-depth review of the features available.
Solarvista is the UK's leading independent provider of cloud-based field service software and mobile apps. We develop all the products required to enable you to get the right person to the right customer at the right time. Our products are in use by some of the UK's best known brands as well as many lesser known but high quality businesses. All our products are available as cloud based software-as-a-service with simple monthly fees.
Solarvista is software that helps people who run field service oriented businesses. It enables our customers to deliver exceptional service levels whilst increasing efficiency and driving revenue growth. It is the only complete solution that manages customer assets, service levels, contracts/agreements, job scheduling, job task control, parts, billing, and quotations. Solarvista is cloud-based so no hardware is required and it's accessible via every device type to suit any business size, via simple all-inclusive per user pricing.